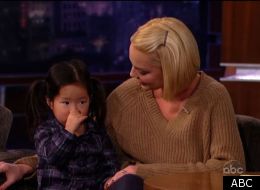 Heihl had her husband bring out her daughter Naleigh who she said was a big ham.
But not surprisingly, Naleigh did not want to perform on cue even as her mother had an entire studio audience applaud for her.
No, why would that be intimidating for a three-year-old?
I have to admit I have fallen prey to the same urge—to show off my children and all their magnificence and smarts.
And to my great dismay, whenever I have prompted them, they have gone totally blank-faced and stony still like they had no idea what I was asking them to do.
Say the ABC's? What are those?!
It just goes to show—our children will do what they want, when they want.
That spontaneously adorable rendering of Twinkle, Twinkle Little Star was one bright shining moment that parents better savor and enjoy.
Because they may never do it again! And certainly not on demand.