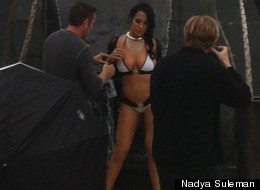 I didn't expect the Octomom porn film to happen so fast.
Last week Nadya Suleman admitted she might reconsider doing porn after the tale of her property being foreclosed and her bankruptcy claim came to light.
Today we have photos of Suleman on set for her shoot last week.
"My first shoot was amazing," Suleman told the Huffington Post. "Such a learning experience for me in so many ways. I don't think I could have asked for a better crew to work with. They were so patient and willing to teach me. I owe a lot to Wicked Pictures contract star Jessica Drake; she opened my eyes to a whole different world of self-pleasure that I could have never imagined. They made me look so glamorous, and for the first time in my life, I felt beautiful and sexy. I'm very excited for it to come out!"
I think Suleman has taken a very public and clear stance on what is important to her. Her children. I know this may sound insane, but she is doing what would make her the money she needed to put food on her kids' table and a roof over their heads.
Is this a career that's right for all moms? Obviously not.
But this woman has been through a lot, regardless of what judgments people make. Suleman is trying to provide for her children. As long as she is comfortable with what she is doing, who are we to say that it is wrong?